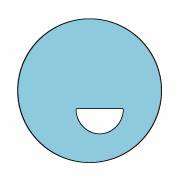 Optical Dynamics flagship flat-top multifocal is a true premium lens design. This should be the new standard for your bifocal patients. A super-thin lens provides comfort along with greatly improved optics. The advanced aspheric design eliminates oblique power errors and maximizes perceived viewing areas.
A premium upgrade for all FT wearers
This is a traditional spherical FT-28 design. The simplicity of its design and wide acceptance are enhanced by light weight ClearLight or SmartShades lens material.
75mm finished lens diameter